Welcome
Thank you for your interest in Bay Area Christian School. For 50 years our school has served as a ministry of Bay Area Church. It is our joy to have a school that partners with families by providing quality education and Kingdom education. We believe that God has a good plan for every child's life. Our entire school staff is dedicated to helping each child reach their greatest God-given potential. We believe that well-educated Christian youth will provide critical leadership and great influence in the future in their homes, communities, and our nation. It is our prayer that these young people will not only learn how to be successful in this world, but will come to know Jesus personally and experience the joy of serving Him. It's a great day to be a Bronco!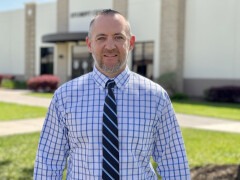 Les Rainey
Head of School
Our Goals
Provide a role model for students by employing born-again teachers.
Teach Christian principles for daily living through the curriculum, Bible classes, chapel programs, and scripture memory.
Uphold and integrate Christian values in all aspects of the school including the curriculum, all classes, sports programs, trips and extracurricular activities.
Provide leadership training opportunities to students (2 Tim. 2:2).
Maintain an atmosphere of Christian love. Students will be encouraged to have love and compassion for one another and for others. They will be given opportunities to express love by serving others (John 13:34-35).
Provide activities and programs to promote joyful and happy social and emotional development.
Lead students to trust Christ as Savior and teach them to share Christ with others.
Provide quality academic instruction that equips students to achieve their best potential.
Provide opportunities for students to have a well-rounded education including programs for physical education, music, and art.
Teach students in a loving manner to be orderly and well disciplined.
Teach Christian citizenship in a free society with a democratic republic form of government.
Provide for proper care of equipment and facilities to exemplify good stewardship and beauty; and also to promote health and safety.
School History
For over 135 years, Bay Area Church has been influencing the community for the glory of God. Originally named Clear Creek Baptist Church, it served as the first church on the mainland of Galveston County. Nine years later, the church was renamed First Baptist Church, League City and began to gather momentum in impacting the Kingdom of God through planting several area churches, initiating viable ministries, and ministering to the community through significant points in history such as The Storm of 1900, The Great Depression, and World War I. Through the contentious and forward planning of the church, Bay Area Christian School was started in 1973. Over the next decade, a new property of 50 acres was purchased, the church and school moved campuses, and the church added Bay Area to its name. Buildings, programs, and ministry increased over the coming years as God blessed the efforts of those seeking to glorify Him. There is no other organization like the church- the bride of Christ.
Bay Area Christian School operates as a ministry of Bay Area Church and identifies with and claims the same beliefs as the church. It is a privilege to have a Christian school that the church champions in an effort to impact God's Kingdom. The school's mission of offering Christian values and quality academics endeavors to make disciples, equip families, and serve the world with the Gospel of Jesus Christ as a ministry of Bay Area Church. As the school has celebrated over fifty years of service to the church and the community, we pray that God will continue to use it to be a blessing to the community, the church, and to Him.