Welcome
Bay Area Christian Elementary consists of kindergarten through sixth grade. We strive for a biblically based and rigorous academic program balanced with fine arts and physical education. Our desire is to partner with parents to train students in kingdom education—a life-long, Bible-based, Christ-centered process of leading a child to Christ, building the child up in Christ and equipping the child to serve Christ. Knowing that God cares how we educate the next generation, our goal is to be intentional and generationally-focused (according to Psalm 78) about our teaching, our students, our learning environment, our curriculum, our educational aims, and our methods. We hope to foster a learning community where we consciously and consistently evaluate what we teach, why we teach, and how we will teach within the framework of a biblical worldview (Deuteronomy 6:4-7).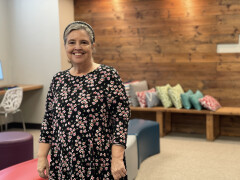 Dana Duncan
Elementary Principal
Curriculum
The elementary school consists of kindergarten through grade six. Kindergarten classes are structured and students are taught academic skills according to school-set standards. Students in grades one and two are given more instruction in reading, language arts, mathematics, and Bible than in fine arts, social studies, health, and science. More attention is given in the older grades to science, language arts, and math. Throughout all elementary grades, the basic skills of reading, writing, and mathematics are stressed. Elementary Curriculum materials include textbooks from Bob Jones Press as well as other supplemental materials. Biblical principles are integrated across the curriculum. We believe that the teacher is the main point of biblical integration and the living curriculum in the classroom.

Suggestions for Readiness
We are delighted that you have chosen Bay Area Christian School for your child's educational training. We look forward to partnering with your home to provide a quality, Christ-centered classroom environment, in which your child will be nurtured for academic and spiritual growth. Our elementary faculty has provided the following readiness areas, which we hope will be beneficial for children preparing to enter our school for the first time. Bob Jones Press materials are used in grades K-6. It is an excellent academic curriculum having Christian principles and values taught throughout all subjects.
Foreign Languages
The curriculum in the Spanish Section of the Lower School is designed to foster an interest in foreign language, as well as establish a foundation for further study. Introductory Spanish classes are offered to second through sixth grade students.
Second through fourth-grade students have the opportunity to study Spanish one time per week during their Fine Arts/PE rotation, while fifth and sixth-grade students may attend Spanish classes twice per week.