Welcome
Are you looking for a high school that has a traditional, biblical based philosophy of education? I believe you will find that here at Bay Area Christian. We truly seek to be a Christian school in more than name only. Salvation and then spiritual growth is of utmost importance to us. Spiritual growth begins with an attitude of humility and the understanding that one of our primary purposes is to reflect Christ's character. We have to have continuity in what we say, what we believe, and how we behave. Our students are from all types of homes and religious backgrounds, but our classroom atmosphere must remain constant. Our teachers plan purposeful lessons to educate the student the whole class time. We expect our students to listen, participate, and help create an atmosphere conducive for all to learn.
This, plus a time-tested curriculum, a robust sports program, and an established yet growing fine arts program make for a well-rounded Kingdom education. 95% of our students go on to college - most to the college of their choice if they have the resources. It is our goal to help our students reach their educational/career goals, but more importantly to be fully equipped to serve Christ in everyday life.
Warm Regards,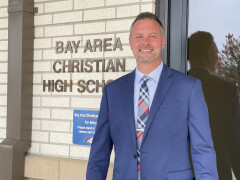 Harold Payne

High School Principal
About
Students in grades 7-12 receive outstanding academic preparation, as well as opportunities in music, sports, and a variety of social activities. Over 330 students are enrolled in grades 7-12 this year. Christian values and Bible instruction enhance character development for daily living. Students enjoy the pleasant learning environment. Bay Area Christian School expects students to conduct themselves properly as Christians and as good citizens at all times. It is important for each student to be continually aware that he/she represents Bay Area Christian School wherever he/she happens to be. This means representing his/her parents, church, and most importantly, Jesus Christ. Bay Area Christian School expects each student to strive to obey all its rules and to practice in daily life outside the classroom all that is being taught inside the classroom.