Welcome
The mission of the Early Learning Academy at Bay Area Christian School: Providing quality Christian education impacting lives for now and eternity. We provide a safe, Christ-centered and developmentally appropriate education for your child. As such, we invite you and your child to participate in our Christian training program for young children. We will be sharing Bible verses, stories, songs, and Bible truths with your child. Our teachers and staff will model Christian character in their classroom. All of our teachers are experienced in teaching young children. Throughout the year our staff participates in conferences and workshops specifically designed for teachers of preschoolers. Our staff brings years of education, training and experience to our program. Each class has an experienced preschool teacher and a classroom aide that assists with projects and center time.
We know the Lord loves little children, and so do we. It is our hope that during your time with us, you and your child will see the Lord in each of us as we minister to you and your family. We do not discriminate regarding race, color, or national origin. Bay Area Christian Early Learning Academy is a member of Texas Baptist Church Weekday Education Association. For questions, please contact us at 281.554.7011 or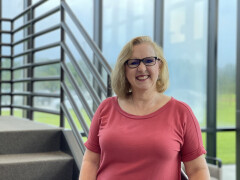 Anita Pierce
Preschool Director
Curriculum
Gospel Light Bible curriculum is utilized in all classes. Children learn to recognize that the Bible is God's word and that God loves and cares for them. The Bible stories lead children to experience God's love and know Jesus. Preschoolers are forming their first impressions of God. We believe that their first impression should be of a Heavenly Father that loves them, and of Jesus, their life-long Friend and Savior.
P2
The P2 classes utilize the Frog Street (FS) curriculum for two's. FS is designed around the latest scientific early brain research while focusing on enhancing the simple joy of childhood. Curiosity is encouraged and nurtured through exploration.
K3

The K3 classes utilize the Frog Street (FS) curriculum. FS curriculum for K3 integrates instruction across developmental domains and early learning disciplines. Special attention is given to social-emotional development and provides many levels of support of differentiated instruction in: Language and Communication, Emergent Literacy Reading and Writing, Mathematics, Science, and Bible.
K4 / Bridge
The K4 and Bridge classes utilize Bob Jones University's Footsteps for Fours. Footsteps for Fours presents an active, hands-on learning environment that includes individual activities and group activities as well as classroom centers for learning through play, and opportunities for teachers to begin biblical worldview shaping. Daily phonics, pre reading, and math lessons explore foundational skills while age-appropriate music, science, language arts, social studies, and handwriting segments give young learners opportunities to explore their world.
MUSIC CLASS
Music is an integral part of our program. Our staff shares their love of music with the children using a variety of fun activities.
CHAPEL
Chapel: Generally held in the Worship Center with BACS Students.
Programs
Preschool 2
A child must be 2 years old on or before September 1 to enroll in a two-year-old class.
K3
A child must be 3 years old on or before September 1 to enroll in a three-year-old class.
K4
A child must be 4 years old on or before September 1 to enroll in a four-year-old class.
BRIDGE CLASS
A child must be 5 years old on or before December 31 (priority given to students that are 5 years old by September 1). This class is designed for children that are 5 years old and need a little more time before starting kindergarten.
CLASS OPTIONS
SECURITY
Security numbers are provided for all children. Any person (including parents) must know the security number to pick up the child/children. Please make sure all those designated to pick up your child know the designated security number or the child will not be released.