Talent Show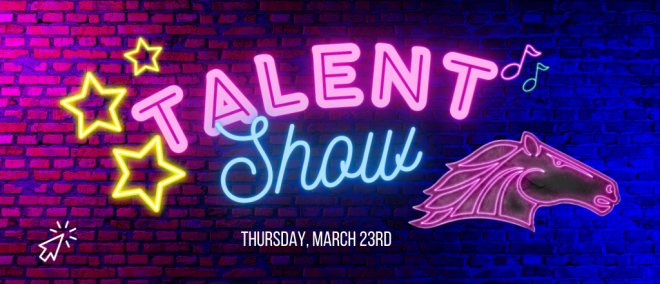 Thursday, March 23, 2023
The BACS Fine Arts Department will be hosting the annual Talent Show on Thursday, March 23rd!
Encourage your student to tap into their creativity while they showcase their best talents!
CLICK TO ENTER CLICK TO PURCHASE TICKETS
Students may sign up to participate in one of the following:
Elementary Comedy/Talent Shows - grades K-6; individuals or groups may participate
Secondary Comedy/Talent Show - grades 7-12; individuals or groups may participate
Please be aware of the following:
Tickets will be sold in advance through our online ticketing system. More information will be sent regarding that soon.
Tickets will also be available at the door, for tickets purchased at the door, there will be no family maximum.
Talent Show will also be live streamed for families or individuals who wish to view the performances from home.
Groups will be limited to no more than 6 students per group.
Electronic Form must be submitted by Wednesday, March 1st to reserve your spot in the show.
THERE ARE A LIMITED AMOUNT OF ENTRIES FOR EACH SHOW. STUDENTS MAY ENTER AS A GROUP ACT OR AN INDIVIDUAL ACT, BUT NOT BOTH.
Entries will be time stamped when received, and will be received on a first come, first serve basis. Performance selections must be clean, and found to be appropriate for a Christian, family friendly environment. All entries will be reviewed as they are received, and if there is any question as to the appropriateness of a song, the act will not be accepted into the show. Songs/Acts may be no longer than 3 minutes in length.
If students need help cutting their song to the appropriate length, Mrs. Morrison is available to help, provided that the entry form and electronic copy is received by Wednesday, March 1st. Additionally, any media (videos, songs, etc.) to be used in performances must be sent to Mrs. Morrison NO LATER THAN MONDAY, MARCH 6th.
Students performing with music MUST send an electronic copy of that music to Mrs. Morrison (already cut to appropriate length) at by the March 6th deadline.
Please make sure your performance and attire is appropriate for Bay Area Christian School audiences (pay special attention to song lyrics and make sure costumes are modest). Costumes will need to be approved by Mrs. Morrison or Mrs. Slafka before the show.
Awards will be given for First, Second and Third place in grades K-3, 4-6, and 7-12. Awards will be determined by a combination of judges votes, in addition to audience text voting, so

BRING YOUR CELLULAR DEVICES

!!
Contestants are NOT required to purchase tickets, but their family members are. Once contestants sign up and are approved, families with children participating may purchase tickets once they go on sale.
Tickets: $5 per person. Tickets will be on sale online beginning MONDAY, FEBRUARY 20th. Children under 2 will enter for free. For advance purchase tickets, there will be a $20 family maximum.
Tickets will also be available for purchase at the door. For tickets sold at the door, there will be NO FAMILY MAXIMUM. Each family member will need to purchase a ticket for $5 if purchased at the door.
Kindergarten-3rd Grade Talent Show will begin at 5:30 p.m.

4th-6th Grade Talent Show will begin at 6:30 p.m.

7th-12th Grade Talent Show will begin at 7:30 p.m.